St Margaret's is located on Dunham Road in the Cheshire market town of Altrincham.
We are part of the Diocese of Chester in the deanery of Bowdon and have stood on this elevated site for nearly 170 years.
We are a diverse group of people from all walks of life, ages and cultures. St Margaret's is a place of encouragement & welcome for all who enter it doors,  whether you are an occasional visitor, regular church goer or a first timer.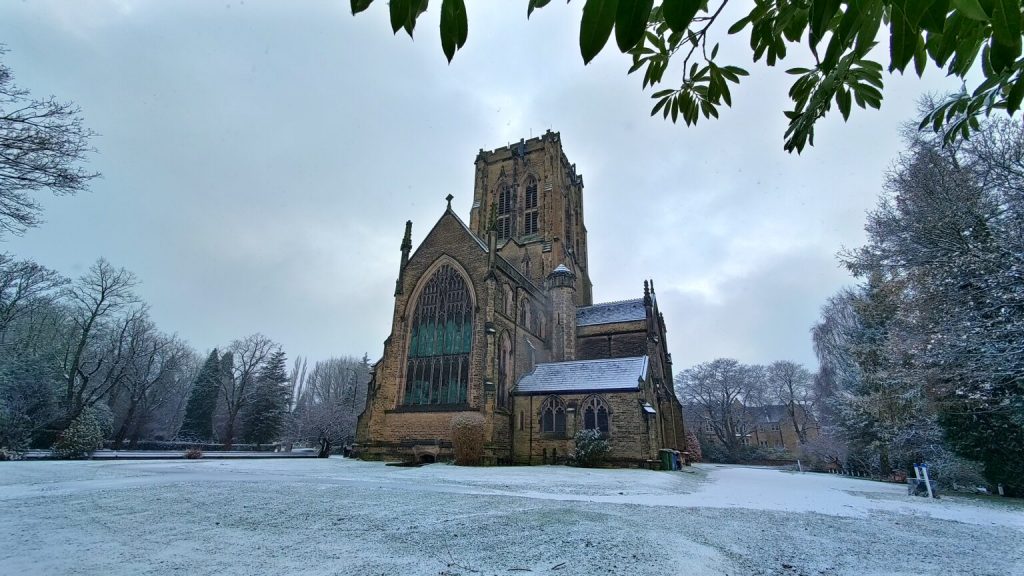 Our Music
Music is central to the worship and life of St. Margaret's. Its richness and variety engages our emotions and enhances our Christian experience. Hymns are selected to match the theme of the day and our sung communion, composed by of Director of Music, Terry Crolley, ensures that the language of the Service is more profound. The wonderful 4-manual Johanus Organ, with its huge range of sounds consisting of quiet flutes and strings and the big sounds of the Tuba and 32′ pedal reeds, provides and impressive accompaniment to our congregational singing.
We welcome choirs and soloists and have hosted the Alteri Choir, The Altrincham Choral Society and the Liverpool Festive Choir. Annual recitals are given by Terry Crolley who, in recent times, has been joined by the international composer and singer, Sasha Johnson Manning.
Our choir has an excellent soprano line. We are, however, always seeking new members. 
Our History
St. Margaret's church was commissioned by George Harry Grey, 7th Earl of Stamford and designed by architect William Hayley. The building was dedicated in memory of Lord Stamford's sister Margaret; construction began in 1851 and was completed in 1855.
We are looking forward to celebrating the 170th anniversary in 2025.
St. Margaret's is grade II* listed. The building's architectural style is perpendicular and it is brick built with Yorkshire stone wall-facings. The interior is most impressive, including a hammer beam roof with carved angels, modelled on Westminster Hall in London. A large reredos, modelled on the Henry VII chapel in Westminster Abbey, and an elegant plaster sanctuary ceiling are other notable features. The tower has a peal of ten bells cast in 1854 by John Taylor.
Notable clergy & congregation
Rev Hewlett Johnson: who later became the' Red Dean' of Canterbury, was the incumbent from 1908 – 1919. His unconventional views on war caused him to be rejected as an army chaplain but he officiated at prisoner of war camps in the parish. He left St Margaret's to become an honorary canon at Chester Cathedral in 1919 and subsequently Dean of Canterbury in 1935.
Rev Geoffrey Studdart Kennedy: better known as 'Woodbine Willie', regularly preached at St Margaret's. He was famed during the First World War for giving Woodbine cigarettes and spiritual sustenance to injured and dying soldiers.
The Emperor of Ethiopia , Haille Selassie, worshipped here whilst in exile in Bath following the Italian invasion of Ethiopia during the Second World War.
Thought for the week with Reverend David Murray